Blog
Gigs
Facts
Music
Shop
Links
Blog: The Football
Saturday morning found me heading WEST, for distant FULHAM where I was going to watch Peterborough United play Fulham in the FA Cup. I was Quite Excited about the whole thing - i actually rather ENJOY going to Posh Away games, usually DESPITE the standard of football what is played, but when I've seen them in Cup Matches they've often being Surprisingly Good. We might even WIN!
As I left the house The Players In My Team called out "It's cold - don't forget your scarf" which, of course, i DID. When I emerged at Putney Bridge station i was thus DELIGHTED to find there was a man selling SCARVES! In fact, there were loads of them - how sensible! I am thus, after several decades, the proud owner of a (non-official) Peterborough United scarf... which probably won't last if i ever put it in the washing machine.
I met with my dear brother Thomas and we headed to THE PUB. In fact we headed round SEVERAL pubs, mostly not getting in but managing on a couple of times, occasionally even getting SERVED. We also bumped into several old PALS, which was delightful, and MARVELLED about what an excitably good mood everyone was in. I have to say that USUALLY when I got to my roughly annual Posh Match the mood is fairly DOUR, but everyone was excited about a trip to The Big City and DETERMINED to enjoy themselves. Which was lucky, as things turned out...
We got to Craven Cottage to discover our tickets didn't work - I'd PANICKED the day before and my tickets hadn't arrived yet (they HAD when I got home) so the LOVELY Peterborough United Ticket people had put some NEW ones at the collection point for us, next door. PHEW. We thus strolled in, got a PIE each for lunch, and found ourselves sat RIGHT down the front, just as it all kicked off.
Now, I am not a habitual attendee of The Football, nor much of a SPORT REPORTER (if you'd like a PROPER REPORT,
look HERE
, so I shall keep it short: basically, Posh did not DISGRACE themselves nor did they ever GIVE UP, but it was fairly clear WHICH team was in the Premiership and which WASN'T. It was 2-0 to Fulham by half time, at which point we went and ANNOYED a queue of people by ACCIDENTALLY (honest!) just walking to the front of the BEER STAND and getting some BEER. I apologised profusely! Also we saw a MAN walk by who everyone wanted their picture taken with. I've no idea who he was, but people seemed VERY excited.
The second half was a FIESTA of GOALS, TWO of which actually came our way. If you look closely at the picture at the top of
the report above
you can see HOW EXCITED we were about this. Here is a closer look: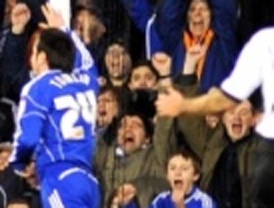 See our happy faces! It was actually the best atmosphere at any Posh game for YEARS and for once it was US who did most of the singing. There was a long row of STEWARDS sat all along the front of us and every time Fulham scored they all suddenly STOOD UP to check for OUTRAGE and VIOLENCE from the away supporters. This was a little unnecessary, INDEED by the SIXTH goal many of our lot were dancing and cheering JUST FOR THE HECK OF IT.
Honestly, there is a lot of nonsense spoken about The Football Terrace Community - in my experience it's usually GRUMPY and QUIET, but this time was an archetypal Big Day Out. It would have been nice to WIN, but it wasn't expected and it's not like it really mattered, so we ended up having a GRATE day out. Thomas and I retired to a POSH pub for a further pint, and then i headed back into town for CURRY to celebrate Dr Neil Brown's birthday. It was a LOVELY day out all round really - I might even go AGAIN before the end of the season!
posted 10/1/2011 by MJ Hibbett
Comments:
Sadly I saw a very different side to our fans on Saturday. During half time at the Southern end a group of about six men took it upon themselves to start chanting the classic, 'There Aint No Black in The Union Jack' directly at the young black members of Fulham's catering team. This then progressed to NF chants and attempts to show support for the EDL. For me souring what up until then had been as you say an incredible atmosphere. We left to get some tasty beers in the perfect Bricklayer's Arms only to discover that everyone in the pub was cursing Posh fans because prior to the game a group had gone in an smashed up the toilets before escaping in a waiting taxi. Worse than Chelsea the landlady called us! The worst things about our hooligans is that they really are pathetic cowards. Honestly how much front does it take to 'turn over' a CAMRA pub of the year?
posted 10/1/2011 by Ms Posh
Exactly - and why on earth would you bother when it's someone rubbish like Posh? I guess that's the nice thing about it usually being so rubbish, that nobody can be that arsed to cause trouble, but that's bloody appalling behaviour.
posted 10/1/2011 by MJ Hibbett

An Artists Against Success Presentation