Blog
Gigs
Facts
Music
Shop
Links
Blog: Rock And Roll Mayhem In South Yorkshire
The 'No Headliner' Tour continued last week with a trip to Sheffield which was packed - PACKED I say - with mayhem of a rock and roll kind.
It began with a terrifying SEVEN MINUTE delay to our train from London to Doncaster which meant that we missed our connectipon to Sheffield, despite the fact that Mr M Tiller has a fantastic APP on his phone which told us exactly which platform we needed to leg it to. What it didn't tell us was that the platform we ended up on had an ACTUAL PUB on it,
The Draughtsman
, which was a DELIGHTFUL place to a) wait b) have a pint in. There was then FURTHER TREPIDATION when we got on the next train and realised that we might have to buy new tickets, as it wasn't the one we'd booked for! PANIC!
But then the very nice ticket inspector was fine about it. PHEW! MAYHEM!
When we got to Sheffield we had AGES before showtime, so decided to have our tea a bit early. We were staying at the home of The Landlady (who now lives up there) and she'd promised us that she'd do us a MICROWAVE PLATTER for when we got home, so it seemed like a good idea to eat now. As we wandered down the road we saw a sign that said "Vegan Pies" - I feel that it is vitally important to support vegan/vegetarian endevours, ESPECIALLY when they involve PIES, but also cakes and beer, so we went in. It was VERY nice, and once we'd finished our tea Matt said that he was half thinking about maybe having a cocktail. The waitress said it was 2-for-1 so what could we do?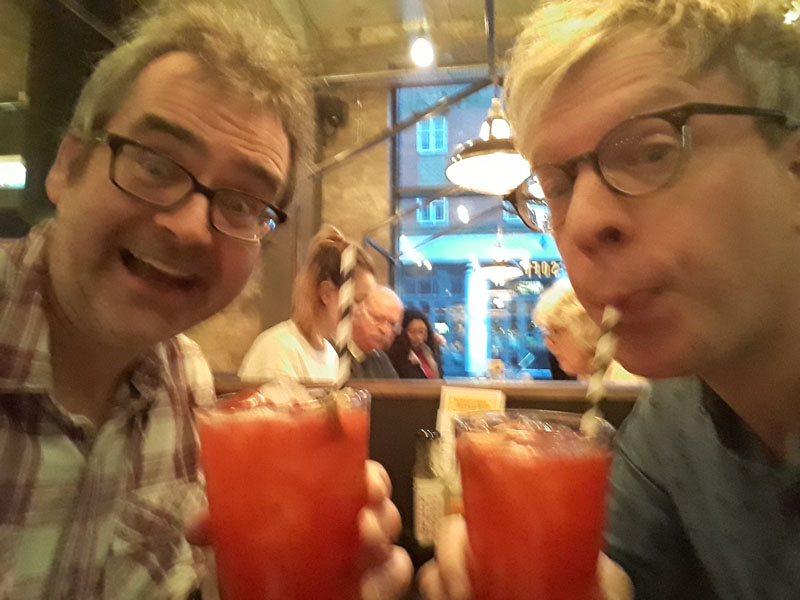 It would have been rude not to really.
After all that it was time to head for The Green Room, where we found our sound engineer for the evening, Brad, setting things up. Soon Mr T Eveleigh, promoter, arrived, and soundchecks were had. We met the headline act, Mr Roger Davies, and then we welcomed the various marvellous people who had come to see us. There were a LOT of them, and they were VERY marvellous - I flipping LOVE going to Sheffield because there are TONNES of bloody brilliant people there, a huge number of whom came along!
The evening kicked off with Eve's Alias, which is Tim's new ACT - apparently this was their first gig, but if they hadn't mentioned it one would not have known - and then Matt took to the stage and WOWED the assembled throng of Sheffield Indie Royalty. He was so good in fact that he made me NERVOUS of doing quite as many UNFAMILIAR (to me) songs as I'd been planning, so switched it round a bit and did THIS:
Happily for me it all went down pretty well - everyone sang along with the end of
Two Blokes, One Pub
, as well as the choruses of
It Only Works Because You're here
, and I got to make some exciting and new REMARKS too. My one mistake, however, was saying that I was only doing
Clubbing In The Week
because I knew there was no chance of anybody suggesting it...
The gig finished with Roger Davies, who was dead good - he doesn't SOUND like Ivor Game, who I've booked for Totally Acoustic as many times as I can, but he did REMIND me of him, in that he had all these SONGS that sounded like there were covers of HITS I'd never heard, but weren't. He was good!
We then settled into CHAT, until one of the aforesaid Indie Royalty suggested we ACTUALLY DO go on somewhere else after closing, so a whole heap of us ended up crossing the road to The Devonshire Cat for EVEN MORE BOOZE and also GOOD TIMES, accompanied by various other delightful types such as the travelling army of Plymouth Argyle Supporters who have joined us on tour. It was BLOODY GRATE, and it was only the realisation that we had to get up in the morning that dragged us away to a taxi, and thence to the previously mentioned Micro-Platter.
It was a BRILLIANT evening, as it pretty much always is in Sheffield. Touring is GRATE!
posted 4/3/2019 by MJ Hibbett
Comments:

An Artists Against Success Presentation