Blog
Gigs
Facts
Music
Shop
Links
EP/Singles: Work is a Four Letter Word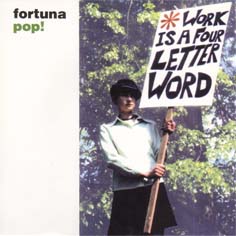 This single is now sold out, although my lead track is available on the
Warriors Of Nanpantan
compilation.
My first proper single! This was a four track EP from Fortuna Pop featuring me, John Sims, The Family Way and… er … someone else. It was all down to the fact that Mat from the K-Stars (and now The Action Time) moved into a flat with Sean from Fortuna Pop! Who was doing a Work EP. Mat suggested "Billy Jones Is Dead, and I persuaded him that they should use something else instead. That night I went home and wrote Work's All Right" (I suspected that everybody else would do songs about what a Terrible Imposition it is to have a job), and Lo! The rest is historical. Funnily enough, this was my first contact with Mr Whitaker, who was doing most of the Actual Work at Fortuna Pop! at the time, though I was not to find this out for quite some time.

Tracks:
Spread the Tikka - John Sims
Long Green - Go-Kart 800
Work's All Right (if it's a proper job) - MJ Hibbett
Sweet Little Nothings - The Family Way

Reviews:
Find of the week is the "Work is a Four Letter Word" EP on Fortuna POP! Leicester quartet John Sims are like a girl-fronted Arab Strap. Cee Cee Beaumont off-shoot Go-Kart 800 play cool Billy Childish-style distorto shouty garage music. Mark Hibbett sings sweetly of the joys of working 9-5, while The Family Way's "Sweet Little Nothings" is a Sonny & Cher for the generation who never learned to sing. Poptastic to the max.
Everett True
"More soul than Wigan Casino", they promise. Go-Kart 800 revive the glory of the Milkshakes; Family Way could be (male/female) Edwyn Collins clones; John Sims (a band) pluck the hint of genius out of a Joy Division bassline; and Mark Hibbett (a man) shambles winningly like Jarvis Cocker fronting a C86 outfit. More fun than Wigan Pier, certainly.
Record Collector
Dancey pop from John Sims, garage punk from Go-Kart 800, and jangle pop from Mark Hibbett and ex-Mambo Taxi band The Family Way.
Bliss Fanzine

An Artists Against Success Presentation